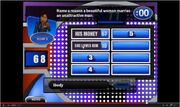 "lbody" is a meme from the NLSS. 
Northernlion often says that this term is a reference to multiple other games or things in general, most notably fighting games or sports games.
Upon receiving the question "Name a reason a beautiful woman marries an unattractive man," michaelalfox suggested the answer "large genitalias," which was written down by Northernlion. When michaelalfox later said that Northernlion could write whatever he wanted, Northernlion decided to type in the word "body". Due to a mistake, he did not delete the "l" from the previous suggestion, resulting in the word "lbody."