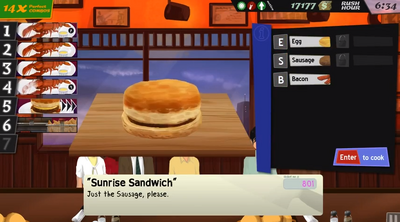 "Just the sausage please" is a reference to the game Cook, Serve, Delicious. It can be seen as a double entendre.
While playing CSD, Northernlion noticed that customers asked for a breakfast sandwich with "just the sausage, please" and started making jokes about giving people sausage. It briefly became a thing.
Resurgence
Edit
In the January 8th, 2014 stream, they played CSD again and Nick repeatedly chose the breakfast sandwich, saying he wanted to hear people ask for "just the sausage please."